Why Choose a Former Prosecutor?
Choosing a Defense Lawyer in Charlotte County
Hiring a former State Prosecutor gives you the inside advantage of analyzing your case from both sides of the c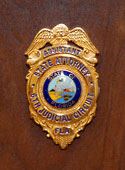 ourtroom. At Bogle Law, Tauna Bogle's six years of experience trying cases from the State's side of the courtroom gives you the advantage of an attorney who can think like the opposition and anticipate their strategy, while protecting your rights.
As a former State Prosecutor, Tauna understands what factors affect the prosecutor's decision to file a criminal case and how the investigation and discovery processes can ultimately affect the final outcome of a criminal case. Her experience and knowledge puts her in an ideal position to evaluate your case and form a strategy and plan to protect you and your case.
Attorney Bogle's Experience
Tauna served as an Assistant State Attorney for the Sixth Judicial Circuit in Pinellas county Florida from 2001-2006. As a prosecutor, she handled every aspect of misdemeanor and felony cases from the initial investigation and interviewing of witnesses to the verdict of a jury at trial. Tauna was a member of the DUI Manslaughter/Traffic Homicide Team, a Child Abuse prosecutor, and a Lead Trial Attorney for a Misdemeanor division. She has also prosecuted local ordinance violations, presented cases for indictment to the Grand Jury and tried both jury and non-jury trials. Tauna has tried over 50 jury trials to verdict.
Attorney Bogle has experience in numerous types of cases, including:
Kidnapping
Lewd & Lascivious Molestation
Prostitution

Resisting Arrest
Trafficking
Unlicensed Contracting
Unlawful Distribution
Tauna has also researched and argued numerous Motions before the Court. When you work with Bogle Law firm, you can take confidence that you have a legal team at your side with significant experience in all aspects of criminal law. You can count on the firm to provide seasoned counsel and aggressive representation as necessary to help you seek a favorable outcome.
To get started, request a consultation today! Our attorneys will be happy to discuss your case and help you determine an appropriate next step. We have offices in Punta Gorda and North Port.