Tauna R. Bogle, ESQ.
Email: click here to contact
A Message from Tauna
I founded Bogle Law, P. A. with the belief and vision that Justice is for All. I am an advocate for finding the true story of each case and every person that I represent. I believe in hard work, preparation, thorough investigation and truth-seeking representation. When your life is on the line, no stone should be left unturned!
I am proud to be a Criminal Defense Attorney and member of the Florida Association of Criminal Defense Attorneys. I take pride in serving my clients, protecting our United States Constitution and pursuing justice. I am honored to practice in the only area of law that is important enough to be a constitutional right. The 6th Amendment guarantees the right of those accused of a crime to have assistance of counsel for his/her defense.
My pursuit of trial work began in law school in 1998. I was a member of the Stetson University College of Law Trial Team. We competed throughout Florida and the United States in mock trials. Stetson is almost always ranked the number one law school for trial advocacy by the U.S. News and World Report.
After graduating with honors and a certification in Advocacy from Stetson University College of Law, I immediately went to work as a State Prosecutor; where I investigated and tried cases for six years. I handled cases on every level, including misdemeanors and felonies, Driving Under the Influence, Driving with a Suspended License, Domestic Battery, Drug charges, Theft, Child Abuse, Sexual Battery, Kidnapping, Burglary, Aggravated Assault, Aggravated Battery, Child Molestation and Murder. My years of working with other prosecutors and law enforcement officers taught me how to investigate a case from their perspective and understand how officers form probable cause and make arrest decisions.
I left the State to gain experience in the private sector. I joined a large firm in Tampa and handled family law, criminal defense and civil cases.
In October of 2007, I founded Bogle Law, P.A. to pursue my vision of honest, zealous and relentless representation. Over the years we have grown into a fully staffed, three attorney firm. Everyone at Bogle Law shares my passion for helping others and seeking the right and just outcome in all cases. Here, you are respected and your opinion counts. We can help you with criminal defense matters, domestic violence, family law and civil disputes. Each of our attorneys is dedicated to specific areas of law. We attend continuing legal education and stay on top of the latest laws and rules. We know how to negotiate cases and we get in the courtroom and try cases.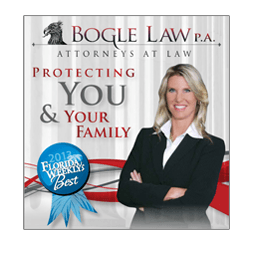 Background Information
| | |
| --- | --- |
| Admitted: | 2001, Florida |
| Law School: | Stetson University, J.D. |
| Member: | The Florida Bar. |
| Born: | Dallas, Texas |