Tauna R. Bogle, ESQ.
Email: click here to contact
History
Tauna R. Bogle has practiced Family Law since 2007. Bogle Law, P.A. has handled hundreds of family law cases since the practice opened in 2007. Tauna R. Bogle has litigated cases through trial and has resolved many cases through successful mediation. Tauna R. Bogle knows that each case is unique, just as each family is unique. She works with clients to find successful resolutions that are individual to each client. Her strong staff of legal assistants and attorneys work together and offer a team approach to family law cases.
Tauna R. Bogle served as an Assistant State Attorney for the Sixth Judicial Circuit in Pinellas county Florida from 2001-2006. As a prosecutor, she handled every aspect of Misdemeanor and Felony cases from the initial investigation and interviewing of witnesses to the verdict of a jury at trial.
Tauna was a member of the DUI Manslaughter/Traffic Homicide Team, a Child Abuse prosecutor, and a Lead Trial Attorney for a Misdemeanor division. Tauna left the State Attorney's office to gain experience in Civil and Family Law. She worked as an associate at the Solomon Tropp Law Group i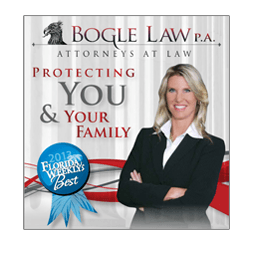 n Tampa, Florida prior to opening her own practice.
Tauna graduated from the Law School ranked #1 in the United States for Trial Advocacy (Stetson University College of Law). Tauna was a member of Stetson's successful Trial Team, winning an opening statement competition, a regional trial competition, and placing second in both state and regional trial competitions. Tauna graduated from Law School with honors and was a member of the Phi Delta Phi honors fraternity.
Through her coursework, she also obtained a specialty Certificate in Advocacy. She was a teaching assistant to Judge David A. Demers in his Trial Advocacy course. Tauna received the highest grade in the course of Evidence and tutored other students in Evidence. She received an award from the International Academy of Trial Lawyers and was selected a member of Who's Who Among American Law Students. Tauna also assisted new students with law school orientation.
Before entering law school, Tauna worked as a Law Office Manager and Certified Legal Assistant in Texas.
Background Information
| | |
| --- | --- |
| Admitted: | 2001, Florida |
| Law School: | Stetson University, J.D. |
| Member: | The Florida Bar. |
| Born: | Dallas, Texas |